Grandio
ZERO GRAVITY
Grandio is a self-treatment device designed to deal with hair loss, thinning hair and baldness. By using the Grandio device for just 5 to 8 minutes a day at home, in the office or anywhere else, you will see amazing results in just a few months.
First time user video
How Grandio Works
Customer Reviews
Great Product
LYNN P

 

on

 

Sep 20, 2018
I absolutely love this device.
Love this stuff.
James W

 

on

 

Sep 20, 2018
I ordered this and I find I am in love with it.
I'm satisfied.
Barry B

 

on

 

Sep 20, 2018
Very good and very effective
Thanks, great service
Suzanne C

 

on

 

Sep 20, 2018
Absolutely delighted with the service, easy to order and super fast delivery, Thank you

Excellent
Sarah M

 

on

 

Sep 20, 2018
Great service, swift delivery & good value professional products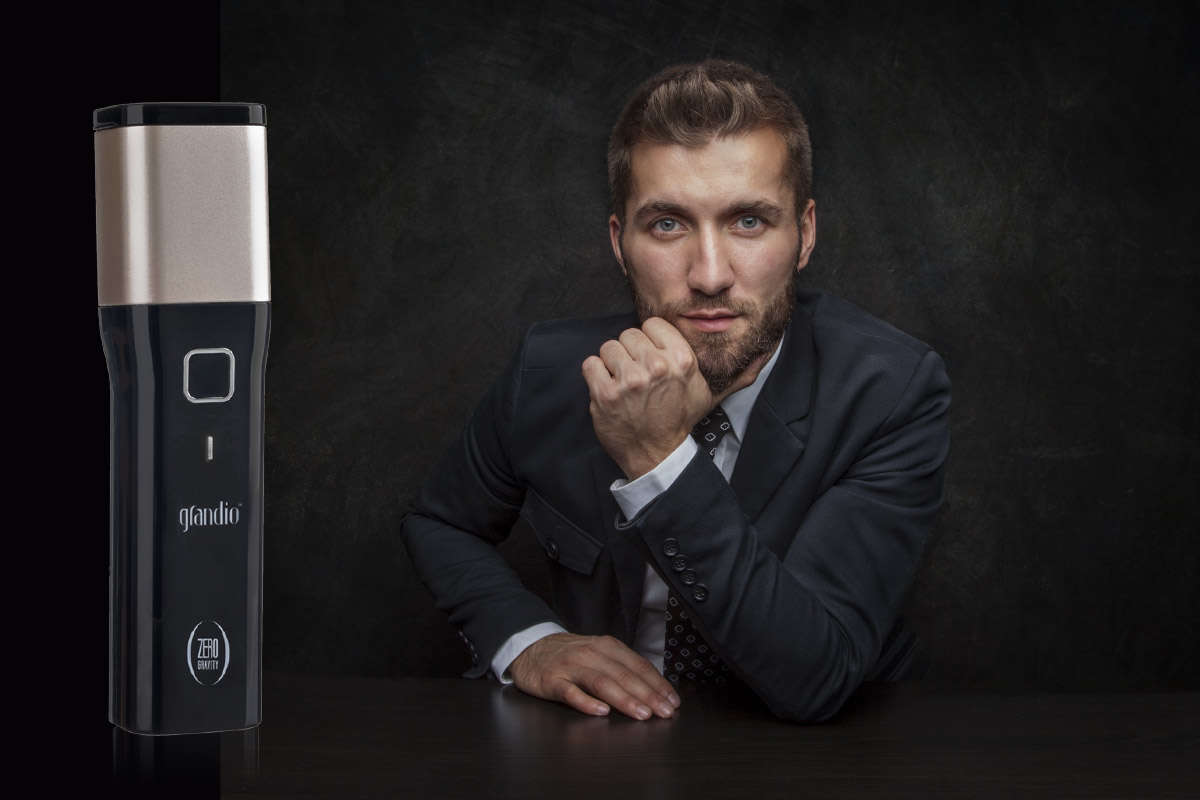 Grandio - Regrow Yor Hair
Grandio is a self-treatment device designed to deal with hair loss, thinning hair and baldness. Using the Grandio device for just 5 to 8 minutes a day at home, in the office or anywhere else, you will see amazing results in just a few months.

Grandio is a self-treatment device for excessive hair loss, hair thinning and balding. Grandio is suitable for men and women, and is an effective method to encourage hair regrowth.

Regardless of the cause, genetic balding or other factors, Grandio gives every user the opportunity to overcome the problem effectively. Grandio, a world-wide registered patent, is a breakthrough in the treatment of baldness. The innovative technological development helps hair grow back. Grandio provides a combination of three treatment mechanisms, which effectively stop the balding process, neutralize the cause of rapid hair loss and encourage new hair growth.

Grandio stimulates dormant hair follicles, which causes hair regrowth, thickening of existing hair and arrests follicle atrophy. Correct and regular use of Grandio results in a quick halt to the balding process. In just a few months, significant change in the appearance of your hair will be clearly visible.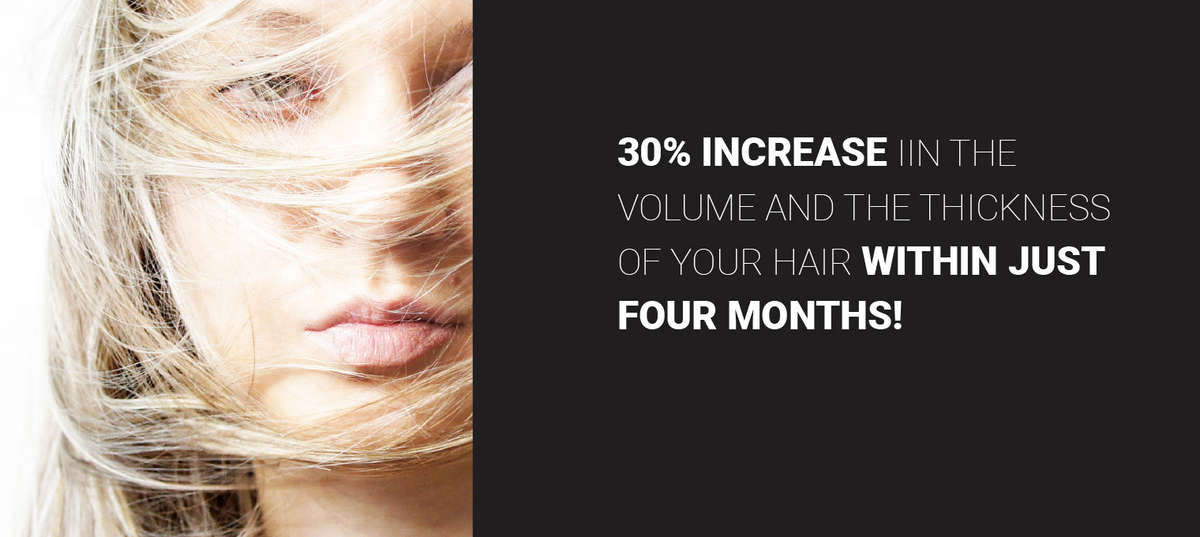 The combination of thicker and increased volume of existing hair results in a significant improvement in the way your hair looks and feels. Using Grandio at home is easy, convenient and completely safe. There are no side effects and Grandio is the only hair regrowth solution with guaranteed results.

After the first four months of treatment, you will benefit from an accumulated improvement of 30% in two parameters: New hair growth and thickness of existing hair. Using Grandio regularly ensures that your hair will continue to improve and regenerate well past the first four months of use.
Self Treatment Anywhere
Take Grandio anywhere and use it at anytime


Rapid Results
Your hair will look better after a few short months of use


Technological Breakthrough
The most advanced, patent-protected technology 


Amazing Results
Not only will your hair loss stop, your hair will look and feel revived

No Side Effects
Treatment with Grandio is external and local


Just 5-8 Minutes a day
 As part of your daily routine - like brushing your teeth


Personal Trainer
Allows you to get the most out of Grandio, free of charge for a lifetime


Low Annual Cost
The only consumable part of Grandio is the cartridge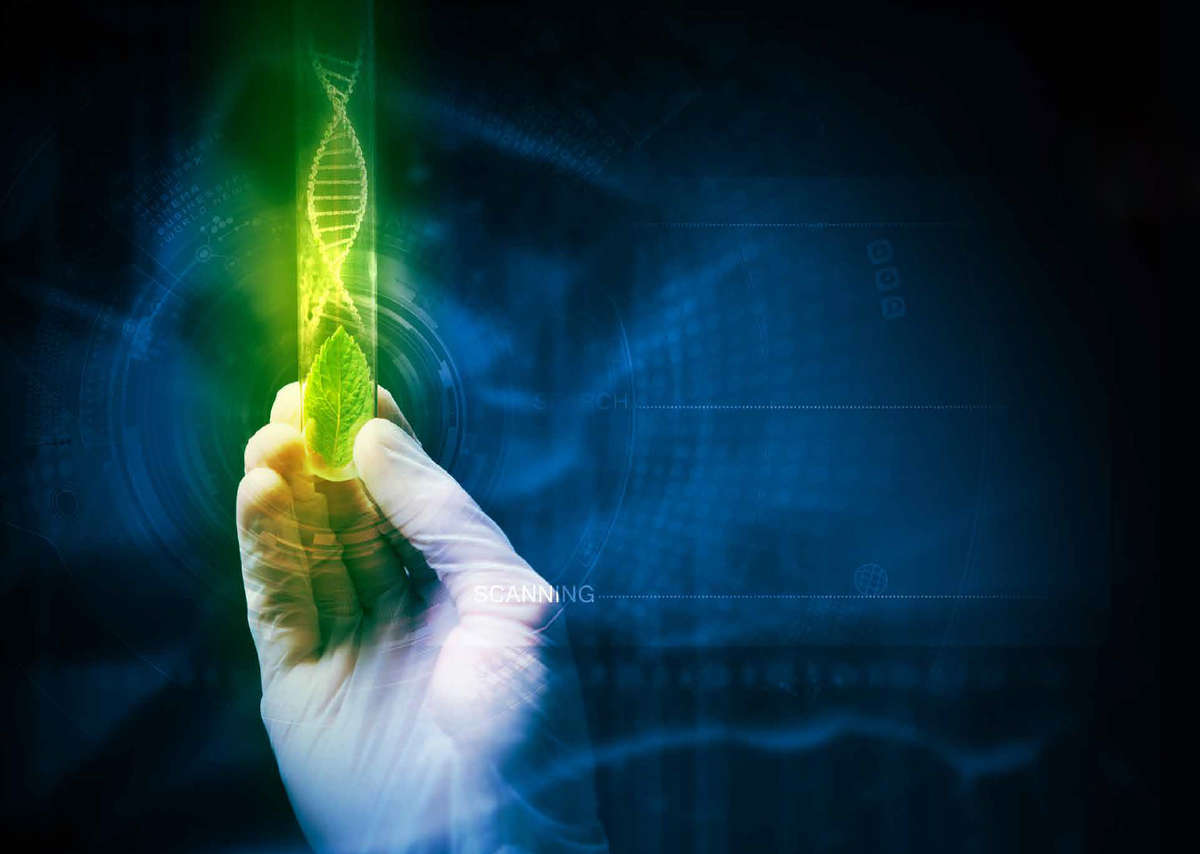 The Science Behind Grandio
According to research, 90% of men and 45% of women suffer from loss in the volume and density of hair during their lives. In men, the process can lead to complete baldness and in women, to different levels of hair thinning on different parts of the scalp.


During the hair thinning and balding process, the blood vessels supplying the hair follicles shrink; the skin becomes thinner and there is a significant shortage of nutrients and oxygen required for the growth of healthy, luxuriant hair. Slowly but surely, the follicles atrophy and what remains is thin hair, similar to a plume and lacking pigment. Finally, hair growth stops entirely due to follicle dysfunction.


The development of Grandio is based on medical research in the field of dermatology. Research has shown the principal cause of hair loss in both men and women to be follicle sensitivity to the hormone Dihydrotestosterone (DHT).


Grandio treats the principal causes of baldness and helps rehabilitate the skin and hair follicles. The treatment is localized and direct, creating a rapid reaction with no side effects.


Grandio uses a number of different treatment mechanisms that are designed to act together to neutralize the atrophying of hair follicles, increase the supply of nutrients and oxygen by accelerating blood flow and thus improving the hair's "living conditions" through the rehabilitation of blood vessels and thickening of the scalp.


Grandio uses three different actions to stimulate the scalp and the follicles: electrical, biochemical and physical-mechanical action. These three stimuli are applied simultaneously, locally and intensively for a few minutes each day.
Electrical, biochemical and mechanical actions are applied simultaneously and have reciprocal synergy aimed at reversing the gradual atrophy of the hair production mechanisms. This initiates a process of renewal and rehabilitation, all based on each individual user's starting point and personal potential.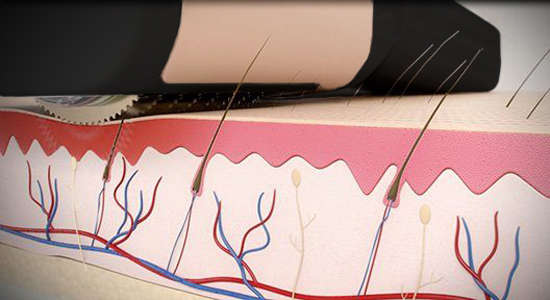 Mechanical Operation
As Grandio is rolled against the scalp, thousands of tiny pressure points are created. Along with the vibration mechanism, the discs massage the scalp and immediately increase blood flow in the area. In addition, the vibration plus the delicate pressure of the discs on the scalp are designed to stimulate the nervous system to send signals to the brain to start the body's healing mechanisms.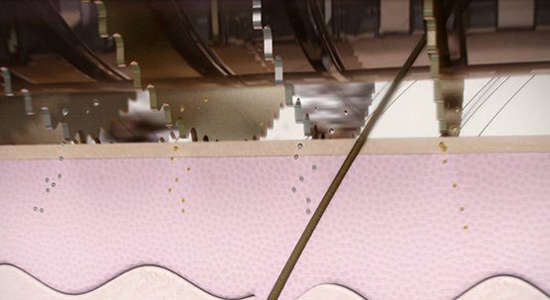 Biochemical Operation
Research shows that zinc and copper suppress the activity of the DHT hormone and many dermatologists recommend taking zinc tablets to treat baldness. Grandio nourishes the scalp directly with small, controlled amounts of zinc and copper (the device's discs, which are coated with zinc and copper, introduce these elements directly to the treated area).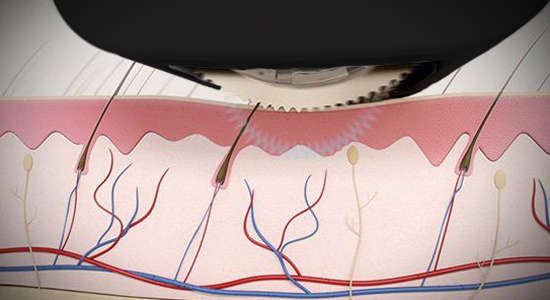 Electrical Operation
The discs of the cartridge apply micro-currents as they rotate when in contact with the scalp. This unique, patent-protected mechanism is designed to re-vitalize the hair follicles and the scalp to ensure natural renewal. It is important to note that the micro-currents are delicate and safe. Modern medicine uses electrical micro-currents in many different ways to heal and treat, including in the fields of dermatology and orthopedics.

AN INDEPENDENT CLINICAL STUDIES WERE CONDUCTED TO INSURE THE EFFECTIVENESS OF THE GRANDIO.
THE STUDY WAS DONE WITH 300 LIVE SUBJECTS, FOR A PERIOD OF
5 MONTHS.
THE RESULT PROVED HAIR INCREASE OF 30 % IN MALES AND 35% IN FEMALES AFTER
4 MONTHS OF USE.
ALL SUBJECTS SHOWED SIGNIFICANT MEASURABLE INCREASE IN TOTAL DENSITY AND TERMINAL DENSITY
= MORE HAIR AND THICKER HAIR
AFTER 2 MONTH
OF USE.
20% OF THE SUBJECTS HAVE SHOWN GROWTH OF OVER 78% AFTER
4 MONTHS OF USE.
ALL PARTICIPANTS FOUND GRANDIO TO BE EASY TO USE AND THE MOST EFFECTIVE
NON-INVASIVE SOLUTION THEY EVER USED .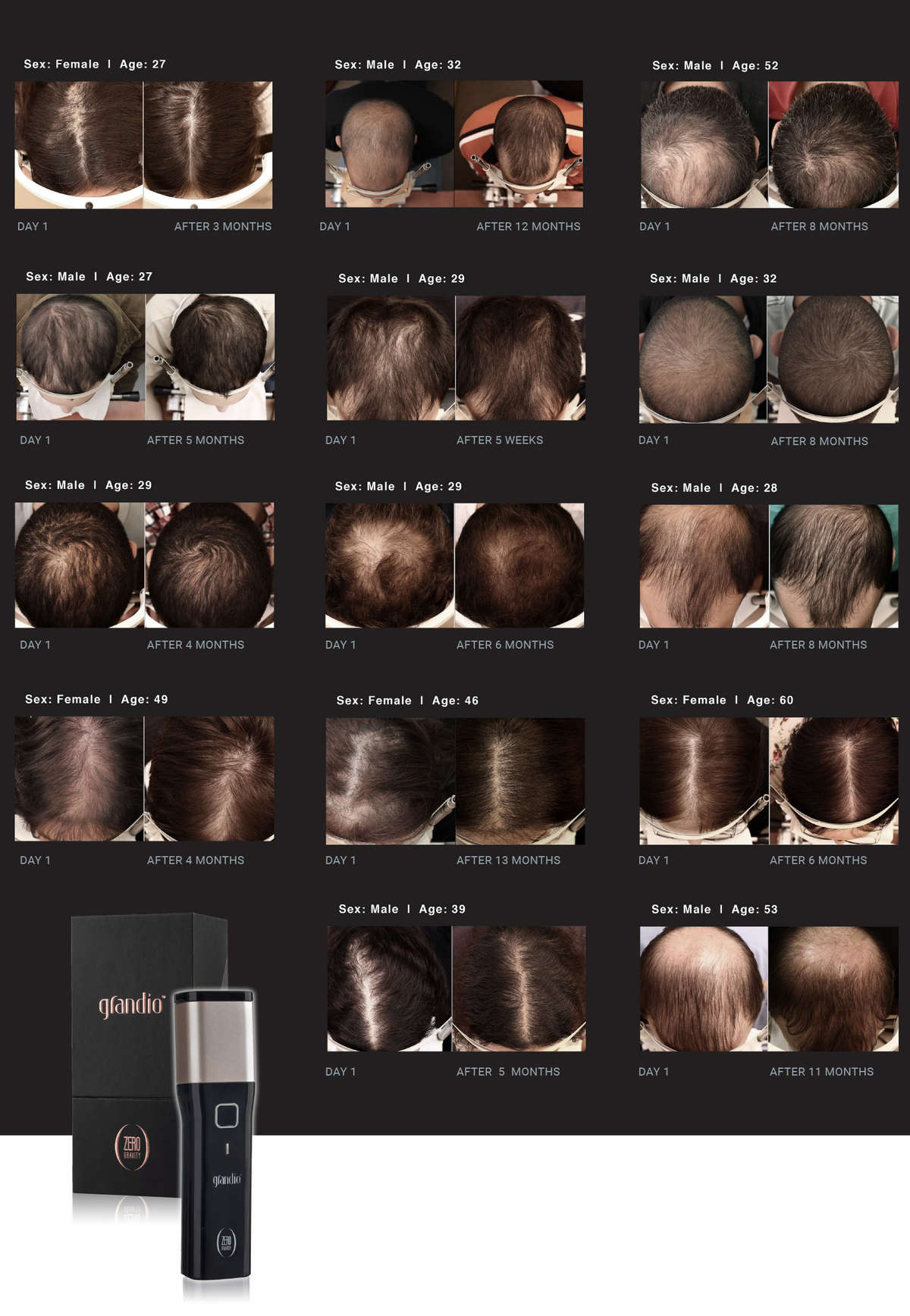 Who Can Benefit
From Using Grandio?
Grandio is customized for men and women and for any hair type and length.
Grandio is highly recommended in the following cases:
Excessive Hair Loss
Increased hair loss can appear at any age and for a variety of reasons, such as: stress, imbalanced eating habits, and a serious illness or hospitalization. If you notice that you are losing large amounts of hair, using Grandio on a regular basis as part of your hair care regimen will improve blood flow to the scalp, revitalizing the hair follicles so that the hair grows healthier and stronger.
Hair Lacks Vitality
Hair is often an extension and integral part of our personal style. Therefore, when your hair loses its shine, lacks vitality and does not look as good as you would like, it can have a great emotional effect, causing a loss in self-confidence. Grandio works to enrich the hair follicles, helping them grow stronger, healthier and thicker than before, and bringing the hair back to its pride and glory.
Hair Becomes Thinner
The first sign of future hair loss may be when hair becomes thinner and more brittle. As a result, the hair does not seem as full as before. This can sometimes be missed or ignored due to shorter hair styles (among other factors). Grandio has great results in treating thinning hair, as it removes toxins and improves the living environment of the hair, enriches the hair follicles and helps them grow stronger, healthier and thicker than before.
Increased Hair Loss & Thinning Hair
Hair loss may increase at many periods in life, resulting in thinner hair. Chemical imbalances in the body can cause the hair follicles to become weak and fall out in increasing numbers. Grandio helps by accelerating the body's natural cycle of regeneration and by combating external factors that may affect the hair follicles. These actions aid in both the long and in the short term.
Family History of Hair Loss
Hair loss is a genetic trait, effecting 90% of men, If you have a history of hair loss and balding in your family, you are at greater risk – the older you get, the higher the likelihood that you will notice some level of hair loss. Grandio's unique technology stimulates the hair follicles to produce thicker hair and awakens and encourages dormant follicles to resume a healthy, normal hair growth cycle.
Hair Does Not Grow Long
There are many periods in life when hair loss can increase and hair can become thinner. In these cases, in general, a chemical imbalance in the body causes the hair follicles to become weaker and fall out at heightened levels. Grandio helps both in the short and long term, speeding up the body's natural regeneration cycle, and combating any external effects that may affect the hair follicles.
Different Phases of Hair loss
Each person experiences hair loss differently. For men, usually the first sign is a slowly receding hair line on the forehead and temple areas, and the crown area is the next to be affected. Grandio can help prevent hair loss from progressing any further, and when used on a regular basis will not only stop the progression but will reverse it, bringing the hair back to its full potential.
Widening up of the Partgs
For women, hair loss can be evidenced by a growing gap between the different hair partings. While at first it may not be noticeable to others, but only to you, self, as it develops it, will become more and more visible. Grandio was uniquely designed to help you out, by working directly at the part lines. It allows for direct treatment of the most critical areas, stopping the process and reversing it in order to bring the hair back to what it used to be.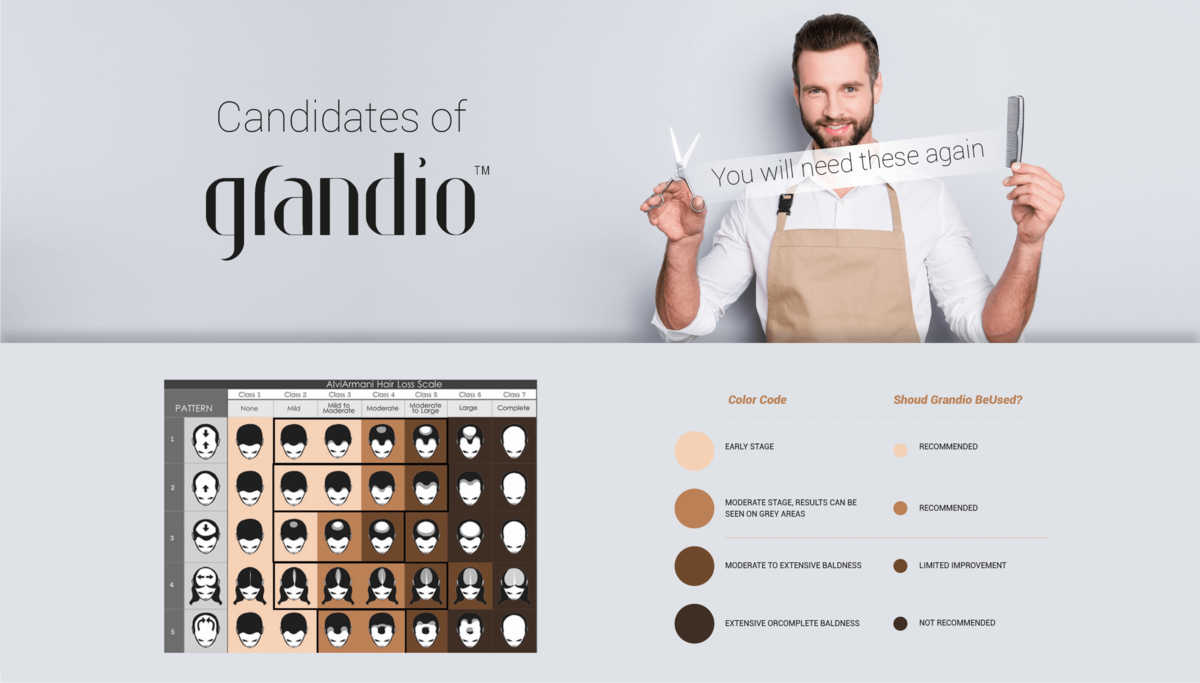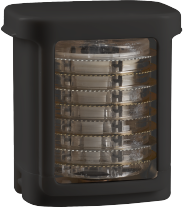 SHORT HAIR (SH) CARTRIDGE
The cartridge for short hair, primarily targeting male androgenetic alopecia (hair loss). The cartridge which includes 8 discs: 4 zinc and 4 brass.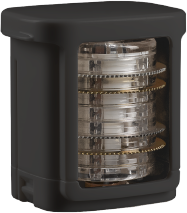 LONG HAIR (LH) CARTRIDGE
The cartridge for long hair, primarily targeting female hair loss. The cartridge has 4 discs (2 zinc and 2 brass ones).

The reduced number of discs in the long hair cartridge results in more comfortable and efficient use.

This device is for cosmetic use. This device does not change the structure or function of the body.
The device is not intended to diagnose, treat, cure, mitigate or prevent any disease or illness.